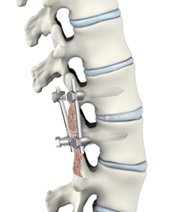 Transforaminal Lumbar Interbody Fusion
(Minimally Invasive)
Spinal fusion and a Transforaminal Lumbar Interbody Fusion is a surgical technique to stabilize the spinal vertebra and the disc or shock absorber between the vertebra. Lumbar fusion surgery is designed to create solid bone between the adjoining vertebra, eliminating any movement between the bones. The goal of the surgery is to reduce pain and nerve irritation.
Spinal fusion may be recommended for conditions such as spondylolisthesis, degenerative disc disease or recurrent disc herniations. Surgeons perform lumbar fusion using several techniques. This article describes the transforaminal lumbar interbody fusion (TLIF) fusion technique. Procedure for Spine Fusion Using TLIF Technique
TLIF back surgery is done through the posterior (back) part of the spine.
Surgical hardware is applied to the spine to help enhance the fusion rate. Pedicle screws and rods are attached to the back of the vertebra and an interbody fusion spacer is inserted into the disc space from one side of the spine.
Bone graft is placed into the interbody space and alongside the back of the vertebra to be fused. Bone graft is obtained from the patient's pelvis, although bone graft substitutes are also sometimes used.
As the bone graft heals, it fuses the vertebra above and below and forms one long bone.