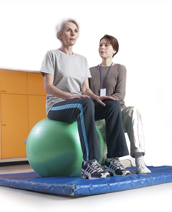 Strength, mobility, and
balance training
We provide a program customized to you: your balance impairment, level of mobility and medical history. The Balance and Fall Prevention Program helps you gain the strength and balance to become more active, more confident and more independent.
Individualized therapy plan to help you
The first step in beginning therapy is a comprehensive assessment to determine the best combinations of treatments. We assess your:
Balance
Endurance
Flexibility
Gait
Strength
Overall condition
Some medical conditions can impact your ability to perform activities. We take these into consideration as we develop your specific treatment plan. Some conditions which may affect your ability include: illness or injury; use of medications; or the neurological effects of stroke, Parkinson's disease, Multiple Sclerosis, or similar conditions.
Balance technology tailored to you
One key to success is interaction with our team of experienced physical therapists, who are strenght, mobility, and balance specialists. We offer specialized care for specific needs, and work closely with your primary care physician.