Neuroma Injections & RFTC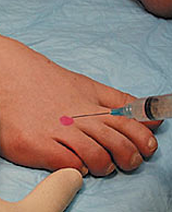 Foot neuromas are very common findings, especially those that are termed intermetatarsal neuromas (or interdigital neuromas). The painful condition is believed to be caused by sensory nerve irritation, injury or abnormal mechanics of the foot. Yes, there are conservative care modalities as well as surgical treatment measures. However, chemical neurolysis (using a dilute solution of ethyl alcohol) gives us a viable alternative for treating the foot neuroma as it has fewer potential complications and up to an 89 percent success rate.
First things first. When it comes to diagnosing neuromas, be on the lookout for symptoms that may range from numbness, tingling, sharp pain or muscle cramping in the foot or toes.
Taking an accurate history and performing a good clinical examination is usually all that is necessary to make the primary diagnosis of neuroma formation. More sophisticated and costly forms of diagnostic techniques, such as ultrasonographic evaluation, are slowly becoming more prevalent in diagnosing neuromas.
Taking A Closer Look At The Treatment Options
The standard treatment for these conditions is relatively limited and includes the conservative care options of massage, tape strapping of the foot, functional orthotic foot devices, change in shoe type or style, decreased physical activities, and one or more cortisone injections into the involved area. Complications with the different forms of conservative treatments vary but may include failure to improve the symptoms, difficulty in wearing certain shoes, worsening of the condition, cortisone atrophy or discoloration of the skin.