Dr. Neil Doctor, M.D.
Interventional Pain Management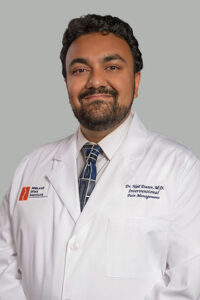 Hello, my name is Dr. Neil Doctor, and that really is my last name! Thank you for taking the time to consider me and Midland Spine Institute for your healthcare.
A little bit about me: I am a Midland native and am a proud alumnus of Lee High School. I attended Northwestern University in Chicago, where I graduated with a degree in biomedical engineering.
After working as an engineer in a biomedical context, I began to enjoy working with the patients my research helped. I realized I would much rather be the man flying the plane than the one designing it, and so I returned to West Texas where I earned my MD at Texas Tech University in Lubbock.
I decided to pursue a residency in anesthesiology at UTMB in Galveston, TX where I was reminded how much I enjoyed working with technology and my hands to serve my patients. After completing residency, this passion, combined with a new sense of purpose, led me to complete a fellowship in interventional pain management back at Texas Tech University.
As an interventionally trained pain physician, my goals for my patients are threefold. First, to help discover what sources may be causing pain and to help vanquish the stigma associated with chronic pain. Second, to find a multimodal approach through technology and medicine to not only help make pain more manageable, but to increase functionality. And finally, to help my patients set and achieve goals so they can continue to enjoy work and life. With these three factors in mind, I look forward to serving the people who constitute my home, the West Texas community.
NOTICE FOR DR. NEIL DOCTOR'S PATIENTS