Coccygeal Pain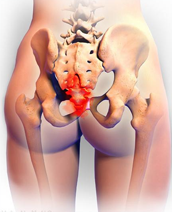 Coccydynia, commonly called tailbone pain or coccygeal pain, is a fairly rare and relatively poorly understood condition that can cause persistent pain at the very bottom of the spine. This part of the spine is the coccyx, or tailbone. Coccydynia is felt as a localized pain and will generally feel worse when sitting or with any activity that puts pressure on the bottom area of the spine.
Coccydynia may be referred to in various terms, such as:
Coccygodynia
Coccygeal pain
Coccyx pain
Coccyaglia
Tailbone pain
The various terms are all used to describe a set of symptoms in the tailbone that can be caused by various injuries or conditions. Treatment may vary depending on the underlying cause of the symptoms and the severity and duration of the symptoms.
Coccydynia symptoms may consist of one or all of the following:
Pain that is markedly worse when sitting
Local pain in the tailbone area that is worse when touched or when any pressure is placed on it
Pain that is worse when moving from a sitting to standing position
Pain that is worse with constipation and feels better after a bowel movement.
A combination of treatments to reduce the pain and activity modification to keep pressure off the tailbone usually suffices to control or alleviate the pain.